Writing Cycle for Great Books Academy's Live, Online English Language Arts
Year 1: Grammar and Composition
Year 2: Academic Writing from the Ground Up
Year 3: Classical Rhetoric for Writing
Year 4: Poetry Writing and Analysis
Year 5: Creative Writing for Classical Students
The first three courses are offered for the 2021-2022 Academic Year.  Years 4 & 5 will be offered in the Fall 2022.  Students who did well in the Academic Writing from the Ground Up course should take Classical Rhetoric for Writing; those who found it too challenging should take Grammar and Composition.
Hover your cursor over the class to learn more!
Year 1: English Grammar and Composition
This is the first year course in the writing craft cycle and aims to establish or re-enforce a good grasp of the fundamentals of written English in a comprehensive manner. This course is designed to be taken at any time, but it is ideal for students who are going into high school or who need to bolster their English writing skills in high school. This course uses McGraw Hill English and Grammar Usage.
Year 2: Academic Writing from the Ground Up
This is the second year course in the writing craft cycle. This course offers a brief review of the grammar and composition essentials and goes on to cover the essay format in various forms, including the basic five paragraph format, compare and contrast essays, literary criticism essays and long form research papers. We will also cover research methodology, plagiarism and ethical research, and annotated bibliographies. We will also be reading essays written by masters of the essay craft like Fulton Sheen, Flannery O'Connor, and G. K. Chesterton. This course is best for students with a solid understanding of grammar and composition fundamentals, ideally, those who have already taken English Grammar and Composition, and who are ready to work on crafting high quality academic papers. This course can be taken in eighth grade or high school. The materials are available online with additional supplementation from How to Speak, How to Listen and Figures of Speech.
Year 3: Classical Rhetoric for Writing
This third year course in the writing craft cycle will draw on the principles of classical logic based on the works of Plato and Aristotle. Students with a good grounding in sound writing principles will learn how to apply the principles of logic and rhetoric to their written arguments to achieve original insights and conclusions based on the information they have access to. The main text for this course is Classical Rhetoric for the Modern Student. This course is best for students who have achieved mastery of the academic essay format by taking Academic Writing from the Ground Up and are in the high school program.
Year 4: Poetry Writing and Analysis
This is the fourth course in the writing craft cycle. Students will use their previous education in rhetorical composition and reading analysis to learn about "lost art" of formal poetics. The class will focus on both the analysis of classical poetic forms as well as learning the dynamics of poetry composition. This course is ideal for students who have studied both literary analysis in Academic Writing from the Ground Up and language usage in Classical Rhetoric for Writers. The course will use A Poetry Handbook as well as poems taken from the Great Books study guides.
Year 5: Creative Writing for Classical Students
This is the fifth course in the writing craft cycle. This course will teach students to put their skills in writing analysis, knowledge of classical literature, and creative composition into formal works of creative writing. While the course will focus primarily on writing plays, short stories, memoir, and speculative fiction, the skills gained will be applicable to any future creative writing projects. Sources pending. The course is designed for high school students.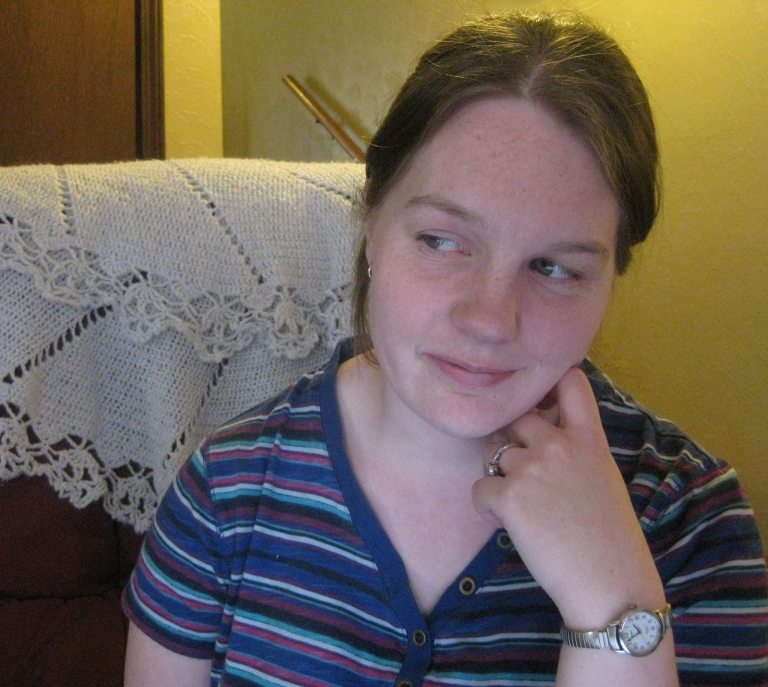 Kara Kelley Heyne is a mother of nine, who has been teaching online writing and literature classes for nearly a decade and a half. She also teaches in person classes at her local homeschool co op, which all her children attend weekly. Kara's teaching experience ranges from Irish step dancing to sewing to Medieval literature to Latin. In 2020 she successfully defended her Master's Thesis (Goldblooded: A Novel and Study in Magical Realism) and achieved her MA. In her spare time, she enjoys baking, crocheting, writing "bespoke fairy tales" and novels, some of which can be found on Amazon under her author name K. Kelley Heyne.
Schedule for 2021/2022 Academic Year
| Master Writing Cycle Courses | Times |
| --- | --- |
| Year 1: English Grammar and Composition | Wednesdays 8AM PST |
| Year 2: Academic Writing from the Ground Up | Wednesdays and Thursdays 11AM PST |
| Year 3: Classical Rhetoric | Thursdays 8AM PST |
| Year 4: Poetry Writing and Analysis | Coming Fall 2022! |
| Year 5: Creative Writing for Classical Students | Coming Fall 2022! |
Master Writing Cycle Tuition
Course: English Grammar and Composition
Moderator: Kara Heyne
Moderator Email: karaheyne@gmail.com
Required Text: Main Course Text: The McGraw-Hill Handbook of English Grammar and Usage by Mark Lester and Larry Beason
Syllabus: English Grammar and Composition Syllabus
Course: Academic Writing from the Ground Up
Moderator: Kara Heyne
Moderator Email: karaheyne@gmail.com
Required Text: All texts will be provided
Course: Classical Rhetoric for Writing
Moderator: Kara Heyne
Moderator Email: karaheyne@gmail.com
Required Texts: Main Course Text: Classical Rhetoric for the Modern Student by Edward Corbett and Robert Connors
Syllabus: Classical Rhetoric for Writing Syllabus